The Agatha Christie Theatre Company are celebrating their 10th anniversary this year by touring the country with a star-studded performance of Christie's own stage adaptation of And Then There Were None.
Following on from their popular tours with Witness for the Prosecution and Black Coffee, the Agatha Christie Company have assembled a stellar cast for this classic Whodunnit: BAFTA-nominated TV and theatre star Paul Nicholas stars with Colin Buchanan (Dalziel and Pascoe), Mark Curry and Frazer Hines (Soldier Soldier) among the supporting performers.
And Then There Were None tells the story of a group of strangers who find themselves on a remote island off the coast of Devon at the home of an eccentric millionaire.  When guests start turning up dead in mysterious circumstances, a murder hunt ensues with suspicion falling on those who remain alive.  This dark and enthralling tale will keep you on the edge of your seat for the duration, and is sure to be a big hit with fans of Christie's work and theatre lovers in general.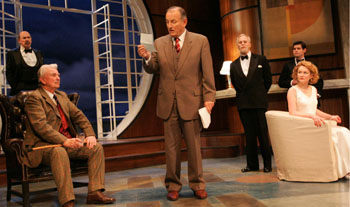 As usual, here at Pinocchio, we're offering a generous 10% discount on pre-show dining for theatre goers.  To qualify for discount simply show your tickets when settling your bill and we'll deduct 10%.  Our fabulous menu offers a huge range of delicious, Italian classics with our famous 2-course specials starting at just £8.95pp.  We carry a superb range of wines to enhance and complement your dining experience – why not try one of our award-winning Italian wines from Eurowines?
We're located just a few yards from Brighton Theatre Royal on Brighton's New Road – reservations are not always necessary, but can be made by using the online reservation form on our website, or by calling us directly on (01273) 677676.